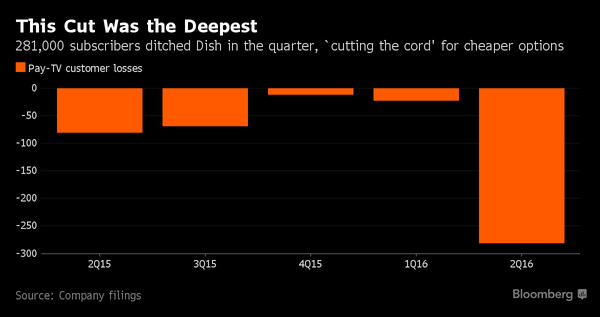 Dish Network Corp. lost a record number of TV subscribers in the second quarter as programming blackouts and price increases drove customers to seek cheaper online alternatives, reviving industrywide concerns about "cord-cutting."
Dish shed 281,000 pay-TV customers in the quarter, compared with a loss of 81,000 a year earlier, according to a statement from the Englewood, Colorado-based company Thursday. That marks the biggest loss of TV subscribers in any quarter. The rate of monthly customer defections, or churn, rose to 1.96 percent from 1.71 percent a year earlier, Dish said in a separate filing.
The results underscore the challenge Dish faces in trying to keep customers from ditching their traditional satellite-TV service for lower-priced, online-only options like Netflix or Hulu. To help stem the losses, Dish created Sling TV, a streaming-video service starting at $20 a month that includes live broadcasts from channels including NBC and ABC as well as cable networks ESPN, USA and Bravo. Dish doesn't disclose Sling TV's customer count, though analysts estimate it added between 49,000 and 100,000 subscribers in the second quarter.
"While we were prepared for some weakness due to a number of programming disputes this quarter, we were not prepared for the magnitude," Philip Cusick, an analyst with JPMorgan Chase & Co., said in a research note Thursday. Last month, Tribune Media Co. removed local broadcasts in 33 cities after the two companies failed to reach a contract renewal agreement.
Source: http://www.bloomberg.com