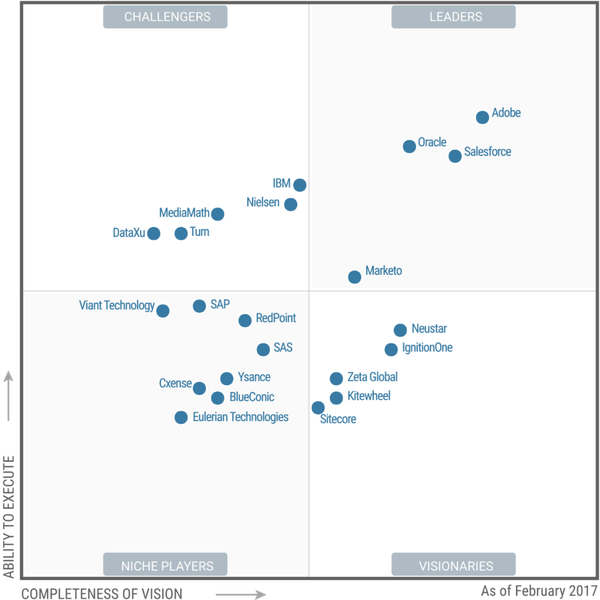 Leaders: Adobe and Oracle continue to crown the evaluation and are seen advancing their execution abilities. Salesforce, thanks to its acquisition of Krux and embedding of its Einstein AI, is now playing the long game among other leaders. Marketo suffers a bit of a shock, this could probably be due to org level changes and the stronger Salesforce marketing portfolio.
Challengers: The quadrant with the massive migrants - MediaMath, Turn and DataXu. Nielsen with its acquisition of eXelate has had a massive repositioning in just one year, to almost shadow the might of IBM's Marketing Cloud. IBM, in fact, has seen a spectacular positioning improvement, probably due to its integration of Watson's capabilities. Similar to Salesforce, it is easy to see how much Gartner values AI capabilities in packaged solutions. Experian marketing services and Epsilon were dropped from the list.
Niche Players: SAP's Hybris Marketing platform finally makes it the cut. Its recent acquisition of Abakus may not have helped its positioning, but this is bound to boost SAP's offerings in next year's evaluation. SAS also makes the cut in lieu of its data crunching capabilities that are well aligned with its marketing offerings. The other new entrants are BlueConic, Cxense, Ysance, Eulerian and Viant.
Visionaries: Zeta Global, co-founded by ex-CEO of Apple, John Sculley, has had the greatest impact in this segment, Jumping an entire quadrant in the space of one evaluation. Neustar improves its positioning with stronger offerings in marketing analytics. IgnitionOne is also a notable vendor bringing compelling personalization capabilities to the marketing cycle.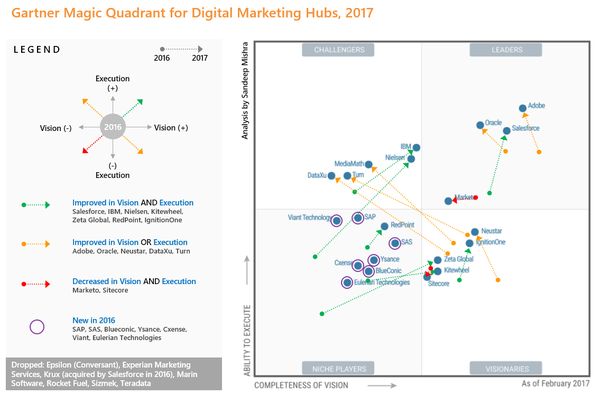 If there is agreement across analysts, it's that Adobe is on top in the marketing cloud wars, with Salesforce and Oracle hot on its heels, each following distinct strategies.
Through its acquisitions and reputation, IBM is still a fierce competitor but has some way to go in terms of integration between its products and also suffers from developing its cloud and on-premises digital marketing portfolios in parallel.
Adobe, Salesforce and Oracle make it into the "leaders" quarter of Gartner's Magic Quadrant for Digital Marketing Hubs while IBM Marketing Cloud can be found among the challengers.
Salesforce
Salesforce is a Challenger in this Magic Quadrant, based on its lead management functionality, offered primarily through its Pardot product and augmented through functionality from other Salesforce products — such as Chatter, Lightning Sales Console, Data.com, Advertising Studio and Salesforce Engage — all of which are now natively integrated with Salesforce Sales Cloud. Salesforce also demonstrates consistent client and revenue growth. Pardot has customers broadly distributed across several verticals, with a heavier concentration in high-tech and IT, financial services, healthcare and life sciences, and manufacturing. Salesforce is based in San Francisco, California, U.S.
STRENGTHS
Native CRM integration and growth: Pardot has native bidrectional integration with Salesforce Sales Cloud. As Salesforce's core CRM products continue to grow, and the Salesforce installed base of existing customers looks to consolidate vendors, Pardot is ideally positioned to continue its year-over-year growth.

AI investment and capabilities: Salesforce continues to invest in AI with Einstein, and the Pardot product has generally available AI functionality in the form of Einstein Lead Scoring (using lead firmographic data to augment scoring), Einstein Opportunity Insights (to predict deal closing times), Einstein Account Insights (predicting business opportunities) and Einstein Recommendations (predicting next actions for sales reps).

Integration with Advertising Studio: Pardot's integration with Salesforce Advertising Studio provides useful functionality for ad spend optimization and ad purchases that is not available from many competitors.


CAUTIONS
Third-party CRM integration: Pardot supports integration only to Salesforce CRM products, so users of other CRM solutions should evaluate other vendors. Further, Pardot often guides customers toward native Salesforce products instead of developing third-party integrations — for example, Data.com is the primary solution for lead augmentation. Reference customers gave Salesforce below-average scores for integration with other applications.

Combination of products: Full lead management is often executed through a combination of Salesforce solutions in addition to Pardot, such as: Chatter, Lightning Sales Console, Data.com, Advertising Studio, Salesforce Engage, Email Studio and Einstein B2B Marketing Analytics. Reference customers cite confusion about which combination of products they need to satisfy their requirements. Companies should develop clarity about exactly which Salesforce products will be delivered as part of a complete solution.

Missing advanced functionality: Some advanced functionality that is readily available from direct competitors is missing from Salesforce's Pardot — such as complex lead workflow triggers and the ability to export scoring models, and to duplicate models and then edit them. (Note: Default scoring models can be edited.)


ORACLE
Oracle is a Leader, based on Oracle Eloqua's robust feature set, extensive third-party integration options and connections to other components of the Oracle Marketing Cloud. Eloqua serves many verticals, with stronger concentrations in business and consumer services, high-tech and IT, manufacturing, financial services, and media. Oracle is based in Redwood Shores, California, U.S.


STRENGTHS
Functionality depth and user interface: Eloqua has an excellent user interface and deep functionality in areas such as workflow triggers, email creation and lead importing — including an integration with WeChat for creating leads directly from the popular messaging platform. Eloqua is able to scale its solution for very large lead databases and companies with complex needs. Reference customers gave Eloqua above-average scores for lead management vision and product roadmap as well as overall product features and functionality.

Integration and ecosystem partners: Eloqua has a broad ecosystem of partners in addition to the Oracle Marketing AppCloud, which is not only a marketplace for partners but also a development framework for partners to extend the application. The Oracle Marketing AppCloud for Eloqua has more than 500 preintegrated solutions, with approximately 140 added in the past year. Reference customers gave Eloqua above-average scores for its integration with other applications.

Cross-channel emphasis: Oracle has a renewed emphasis (including native functionality) for identifying leads and customers across channels and across devices, using the Oracle ID Graph. This functionality proves useful for those Eloqua customers with large numbers of unknown or anonymous customers, or for identifying customers that use many channels.


CAUTIONS
Product complexity: Because of Eloqua's robust functionality, new customers can find it difficult to use. Reference customers gave Eloqua below-average scores for ease of use and the number of internal resources required to operate lead management activity.

Implementation times: Eloqua is often deployed in complex environments with a strong need for customization. Reference customers reported implementation challenges and offered scores for ease of deployment that were lower than for most direct competitors.

CRM integrations: Integrations to Salesforce, Oracle Sales Cloud, Oracle CRM On Demand and Microsoft Dynamics are native and bidirectional, but integrations to NetSuite, SugarCRM, SAP CRM or Infor require using a partner or the Oracle Integration Cloud Service. This could lead to increased cost and implementation project complexity.
---
---